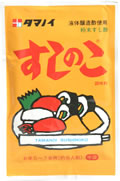 It is only mixed to the rice, and delicious vinegared rice can be made.




SUSHINOKO


Even the rice warmed again does a quick change in delicious vinegared rice.
So it doesn't need to cook rice to strengthen it for vinegared rice.


---


Because it is the sushi vinegar of the powder, it is only mixed to the warm rice, and it is easy to prepare tasty vinegared rice of one serving.
Even the rice of the pouch-packed food pack is OK. The sushi flyers and the bowl of rice topped with sashimi can be made from the liked ingredient material.


Trade name: powder sushi vinegar
NET Content: 35g (for about 2 cups of rice)
75g (for about 4 cups of rice)
150g (for about 8 cups of rice)
Used-by date: 2 years from the manufacture day (Unopened)
Preservation method: Avoid the place of hot and humid.